All Woking Art Society's exhibitions are open to the public and offer a wide range of works – primarily paintings – all for sale at competitive prices. If you would like to be added to our mailing list to receive information about future exhibitions and invitations to private views, please use the contact form
here
.
2021 Exhibitions
Spring Exhibition at The Lightbox, Woking
Open to the public: Tuesday 11 May to Sunday 23 May
Set-up and handing in: Monday 10 May
Collection of unsold work: Sunday 23 May at 3.45 pm
or Monday 24 May 9-10 am
We had been privileged to exhibit at this prestigious gallery in the heart of Woking every year since 2010 until the lockdown forced its closure just before our 2020 exhibition. This year's is currently scheduled to run for two weeks in May and we're keeping everything crossed that it can go ahead.
Due to restricted hanging space at The Lightbox we have a selection process for which all members of Woking Art Society are eligible to submit works. Prizes are awarded for the best overall submission and for the best watercolour/water-based painting (both as judged by a panel of independent professional artists) and for the people's choice (voted for by visitors to the show).
Mercia Walk, Woking
Traditionally we hold 'outdoor' exhibitions in Mercia Walk on four Saturdays each year, usually in June and in September. The only restrictions that apply here are that all works must be for sale and that all exhibiting members must help put up the stands and carry out a stewarding session during the day.
Since Woking Borough Council is not accepting bookings for any outdoor spaces at present, we don't yet know whether it will be possible to stage outdoor exhibitions in 2021.
Pop-up exhibitions
The Society was able to stage a pop-up exhibition in a vacant shop in Woking's Peacock Centre in September 2020 and we'll be looking for more opportunities like this once Covid restrictions start to be lifted.
Details will be provided here when events can be confirmed.
Lightbox Exhibition 1
Lightbox Exhibition 2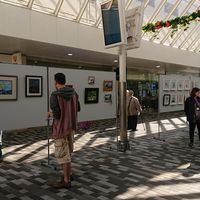 Outdoor exhibition 1
Outdoor exhibition 2