All Woking Art Society's exhibitions are open to the public and offer a wide range of works – primarily paintings – all for sale at competitive prices. If you would like to be added to our mailing list to receive information about future exhibitions and invitations to private views, please use the contact form
here
.
2022 EXHIBITIONS
Annual Exhibition at The Lightbox, Woking
Open to the public: Tuesday 11 October to Sunday 23 October
Set-up and handing in: Monday 10 October
Collection of unsold work: Sunday 23 October at 3.45 pm
or Monday 24 October 9-10 am
Due to restricted hanging space at The Lightbox we have a selection process for which all members of Woking Art Society are eligible to submit works. Prizes are awarded for the best overall submission and for the best watercolour/water-based painting (both as judged by a panel of independent professional artists) and for the people's choice (voted for by visitors to the show).
Outdoor Exhibitions in Mercia Walk, Woking
11 and 18 June 2022
10 and 17 September 2022 CANCELLED
Pop-Up Exhibitions
We hope to run at least some of these during 2022; details will be provided when events can be confirmed.
Lightbox Exhibition 1
Lightbox Exhibition 2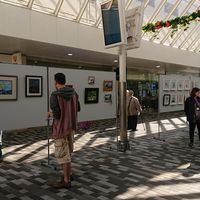 Outdoor exhibition 1
Outdoor exhibition 2