All exhibitions are open to the public and offer a wide range of art at competitive prices. To be added to our mailing list to receive information about future exhibitions and invitations to private views, please use the contact form
here
.
You must be a member to show and sell your work with Woking Art Society, but all members are eligible to submit art for all exhibitions.
The Lightbox, Woking
Open to the public: Tuesday 2 May to Sunday 14 May 2023; closed on Monday 8 May 2023
Set-up and handing in: Monday 1 May
Collection of unsold work: Sunday 14 May at 3.45 pm or Monday 15 May 9-10 am
This prestigious gallery and museum was purpose-built to be a physically accessible cultural hub and has been the home of our main annual exhibition since 2010. Due to restricted hanging space at The Lightbox, each year we invite a panel of independent professionals to make the final selection of exhibits.
Prizes are awarded for the best overall submission and for the best watercolour/water-based painting, both as judged by the panel, and for the people's choice voted for by visitors to the show.
Outdoor Exhibitions in Mercia Walk, Woking
10 and 17 June 2023
9 and 16 September 2023
All exhibits are for sale at what have become known as our 'outdoor' exhibitions, which are actually under cover in Mercia Walk, which links Church Path and the Station to the Victoria Place shopping centre. All members are eligible to show their work in return for carrying out a stewarding session.
Pop-Up Exhibitions
We hope to run at least one of these during 2023; details will be provided when events can be confirmed.
Lightbox 1
Lightbox 2
Lightbox 3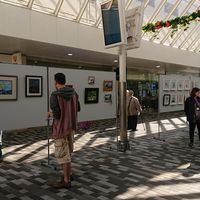 Outdoor exhibition 1
Outdoor exhibition 2